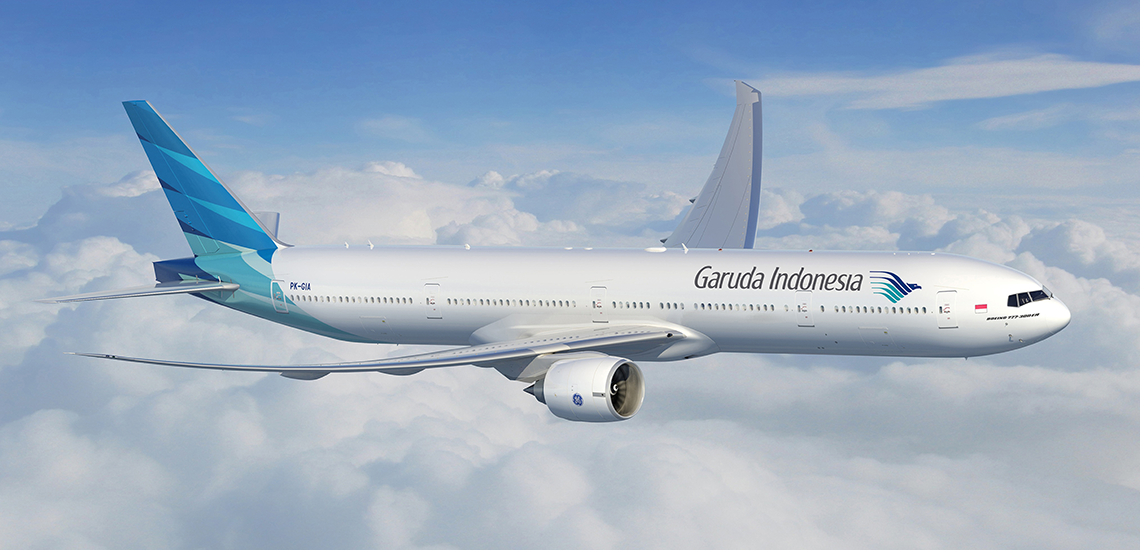 Garuda Indonesia is the flag carrier of Indonesia and serves as a full service airline. Garuda Indonesia currently operates 134 aircrafts and serves 55 domestic and 20 international destinations in Asia (Regional Southeast Asia, Middle East, China, Japan and South Korea), Australia, and Europe (The Netherlands).

As a result of its concern to safety, Garuda Indonesia received IOSA (IATA Operational Safety Audit) a certification in 2008 as proof that the airline has fulfilled global best practice in safety and security procedures.

In its ongoing efforts to improve its service, Garuda Indonesia has launched its new service called "Garuda Indonesia Experience". This new service offers new concept of services that reflects the best and genuine Indonesian hospitality at all service aspects. In order to support the new service, all Garuda latest aircraft are fitted with Garuda Indonesia's new signature interior: individual touch-screen LCD TVs for executive and economy class passengers and equipped with Audio Video on Demand (AVoD). AVoD is an entertainment system that offers latest movie and audio tracks at your fingertips.

A number of awards in the last two years are a real prove of Garuda Indonesia competencies. In 2010, Skytrax rewarded Garuda Indonesia as a "Four Star Airline" and "The World's Most Improved Airline". Subsequently, in July 2012 Garuda Indonesia received "Best Regional Airline in Asia" and "World's Best Regional Airline". Sydney-based Centre for Asia Aviation (CAPA) awarded Garuda Indonesia as "Airline Turnaround of the Year" in 2010. And in 2012, Roy Morgan, independent international research in Australia, awarded Garuda Indonesia as "The Best International Airline" for the month of January, February, and July.
In 2014 Garuda Indonesia was awarded 5-Star rating by Skytrax, the world's leading airline and airport review specialists. The exclusive top-tier 5 star rating (Garuda Indonesia became the 7th) is only awarded to airlines achieving the highest quality performance, and importantly, this focuses on the airline's ability to deliver this on a consistent basis.

AWARDS
2010 – 4 Star Airline SKYTRAX Award & "World's Most Improved Airline" Award
2010 – Centre of Asia Pacific Aviation – Airline Turnaround of the Year
2010 – ICSA "The Best in Achieving Total Customer Satisfaction"
2012- SKYTRAX Awards "Best Regional Airline in Asia' and "World's Best Regional Airline"
2013- SKYTRAX Awards for "The World's Best Economy Class" and Best Economy Class Seat".
2014-SKYTRAX 5 STAR AIRLINE RATING AWARD
2014 and 2015-SKYTRAX Awards "World's Best Cabin Crew"
Contact Us
Our team is standing by to assist you Monday to Friday 9am till 5pm
New Zealand Office
Level 9
Huawei Centre
120 Albert St.
Auckland 1010
Tel: +649 366 1855
Fax: +649 969 7474
garuda@airlinemarketing.co.nz